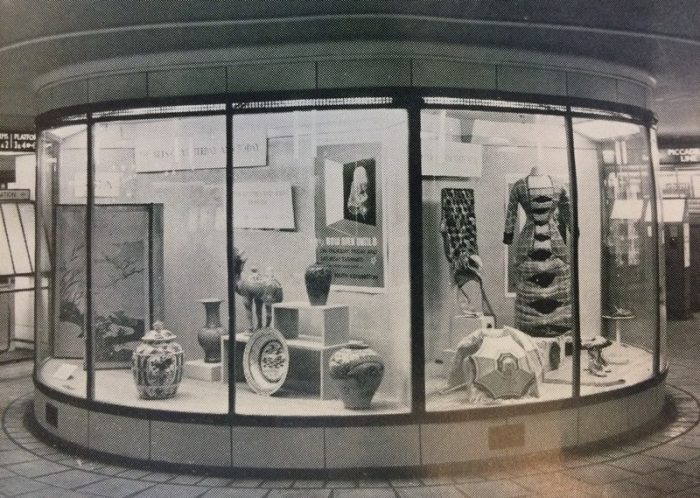 Travellers passing through Leicester Square underground station in 1938 would have been able to see a museum exhibit. The Victoria and Albert Museum arranged three cases in the rotunda in the centre of the ticket hall, changing the exhibits occasionally. Although the items were not labelled individually, each case had a general caption with adverts for the museum and its evening opening times. Leicester Square was a busy tube station, with 1 million passengers a year, although eighty years later that figure seems relatively low. In 2017 the station had 36.7 million passengers. Anyone prompted to visit the museum by the exhibit would have had an easy journey along the Piccadilly line to South Kensington.
Other museums also had 'shop windows' at this time. Some had external windows on the street, including the Royal United Services Institution museum in Whitehall, and the Bowes Museum in Barnard Castle had a display in a nearby hotel. Doncaster museum took a similar approach to the V&A, with a display at the city's railway station. And the practice continues today. The radio museum in Kouvola, Finland, has a display in the town's railway station, in the underpass between platforms. Just a few of its extensive collection of radios feature in a case with an advert for the museum and its neighbour, the Miljöö museum.
The V&A no longer displays exhibits at Leicester Square – the cases may only have been there for a year. Nowadays the rotunda is an information point.